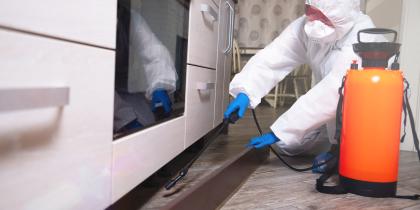 Structural Pest Control
The Georgia Department of Agriculture (GDA) regulates all companies and operators providing structural pest control services within the State of Georgia.  We make sure that consumers get safe, standardized, and quality pest control services.
Highlights
About this Program

Georgia licenses and regulates pest management professionals who specialize in structural pest control: inspecting for and eliminating unwanted insects and/or animals in or around structures. All people or businesses performing this service must have a structural pest control company license.

The Structural Pest Division (SPD) protects the health, safety and welfare of Georgians and safeguards the environment by licensing, regulating, and enforcing state and federal structural pesticide laws. We aim to promote compliance, prevent human and environmental harm, and deliver exemplary customer service to the public and the industry. We provide compliance assistance, education, and consumer protection, and we pursue regulatory actions when appropriate.

 

Search for Licensed Structural Pest Companies, Employees, and Operators

Structural Pest Control Commission

The Georgia Structural Pest Control Commission partners with GDA to serve the public and the pest management industry by

Advising the Georgia Department of Agriculture about enforcement
Disseminating and explaining the Georgia Structural Pest Control Act
Ensuring that pest management companies are properly licensed
Ensuring that pest control operators are certified
Ensuring that pest management employees are registered

See more details on the Structural Pest Control Commission page.
License Types
Licenses for this Program
Licenses for this Program