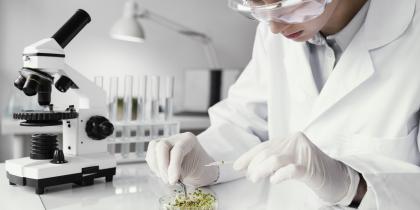 Laboratories
The Georgia Department of Agriculture (GDA) Laboratories protect consumers by ensuring their food, fuel, seed, and feed meet the highest quality standards.
Highlights
Laboratory Program

Together with GDA's licensing and inspection programs, the GDA Labs protect consumers by ensuring their food, fuel, seed, and feed meet the highest quality standards.

We support regulatory actions by testing seed, feed, fuel, fertilizer, food, dairy products and pesticides, and calibrating devices that measure weight and volume.

Our Labs

Microbiology Lab

The Microbiology Lab helps ensure the safety of Georgia's food supply. The lab tests for foodborne pathogens such as Salmonella spp., Listeria monocytogenes, and E. coli, and reviews for other contaminants from insects and rodents, aflatoxin, and staph enterotoxin. The lab also tests pet foods for contaminants.

All these tests are part of a food surveillance program that ensures the safety of Georgia's food supply, from retail ready-to-eat foods to food manufacturing facilities.

The lab also aids federal Food Safety initiatives with USDA and FDA involving tests for food, feed, milk, and meat products.

State Seed Lab

The State Seed Laboratory tests seed for Georgia and surrounding states to ensure quality and consistency. If you want seed samples tested.  See details on the next tab.

We're a regulatory agency but we also test certified seed and farmer's seed. All major agricultural crops, vegetable seeds, and grass seeds can be tested at our lab. We conduct purity testing, germination testing, vigor testing, noxious weed exams. Special testing is offered upon request.

Feed Lab

The Feed lab tests pet foods and livestock feeds to verify the guaranteed analysis on the label, ensuring that the nutritional needs of animals are met and their diets are safe and balanced.

Fertilizer Lab

The Fertilizer lab tests commercial and consumer fertilizers to verify the nutrient content meets the products' stated guarantees. Ingredients need to be reported accurately to ensure crop health and productivity.

State Fuel Oil Lab

The State Fuel Oil lab helps keep Georgia moving. Fuel impacts all aspects of life – agriculture, transportation, and other vital activities would suffer if its quality isn't safeguarded. The Lab protects fuel and other petroleum products for purity, performance, octane rating and other quality standards. The Lab also tests kerosene and antifreeze as they're vital to life in the winter.

State Weights & Measures Lab

The State Weights & Measures lab makes sure that all food scales, transportation scales, weights used for commerce, and volume provers are properly calibrated. Georgians deserve to get the full measure of every pound and gallon they pay for.

For weight measurements, the lab conducts precision and tolerance calibration testing. Its other duties include volumetric testing of metal provers, length testing for steel tapes and rigid rulers, strength testing for weight carts, overseeing Georgia's grain moisture testing program, and inspecting the lottery balls once each month for the Georgia Lottery Commission.

Pesticide Lab

The Pesticide laboratory ensures that the food produced and consumed in Georgia is safe to eat. The lab tests food, complaint samples, and pesticide products, and it polices state pesticide laws. The lab plays an integral role in the Food Safety Division's food surveillance program.

Testing Your Seed

One of the services provided by our Seed Licensing & Testing Program is publicly-available testing of seed for noxious weed seed or other contaminants

If you want seed samples tested:

Send one to two pounds of any large seed, such as soybeans, peanuts or corn, and about one-half to one-quarter pound of smaller seed.
Fill out the Seed Testing Request Form and send it in with your sample:

Include the kind and variety, lot number or other identifying mark, state the testing needed, and include your full name, address, telephone number and e-mail address.
Include the name of any seed treatment that was used.

Mail seed samples in a sturdy cardboard box or similar container to protect them.

If you are submitting more than one sample or you plan to routinely submit samples, please use our seed sample envelopes.  These envelopes aid us in managing samples in the laboratory.  Envelopes are available from seed inspectors and county extension agents, and by request from the Tifton seed laboratory.

Allow 2-4 weeks for testing to be completed.

U.S. Mail address:

Georgia Department of Agriculture
Tifton Seed Lab
PO Box 1507
Tifton, GA 31793-1507.

Fed EX or UPS address:

Georgia Department of Agriculture
Tifton Seed Lab
3150 US Hwy 41 S
Tifton, GA 31794-8877.

Questions? Call us at (229) 386-3145 or email Seedlabinquiries@agr.georgia.gov.