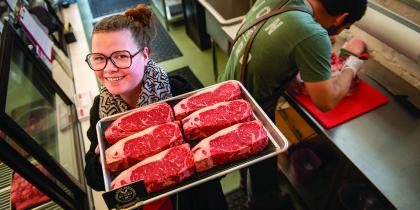 Meat Inspection
The Meat Inspection Section (GMIS) of the Georgia Department of Agriculture (GDA) governs and regulates the statutes on meat slaughter and  processing plants to assure a safe, wholesome, and properly  labeled meat supply for consumers.
Highlights
About the Program

The Georgia Meat Inspection Section (GMIS) ensures that all meat products are safe, secure, wholesome, and accurately labeled. The Georgia Meat Inspection Act was signed in 1969, making Georgia the first meat inspection program in the nation. The GMIS regulates livestock and poultry slaughter and processing, conducts daily inspection of state and federal facilities, performs routine inspections at exempt establishments, and oversees meat compliance in commerce.

Our mission:

Performing daily food safety inspections.
Ensuring that our inspection strategies align with existing and emerging risks.
Providing verification through product sample collection.
Conducting comprehensive food safety assessments (FSAs).
Ensuring that all regulated products are properly packaged and labeled.
Ensuring humane handling and slaughter of livestock. If you have questions about other live animals or livestock management, please visit our Livestock Program page.

Starting a New Establishment

Opening and operating a licensed meat facility can be expensive and challenging. Meat is one of the most intensely regulated food products in the country. Your operations will be inspected by either our program or the USDA Food Safety Inspection Services (FSIS). You'll need to check with local city and/or county zoning laws before finishing your application for meat inspection.

Our team is here to help you if you have questions along the way.  Please review the links below

First, find out what kind of license your business will need.

Next, review our page on starting a meat processing facility. 
Newsletter
About once a quarter we send out our Meat Inspection Newsletter with important and interesting information about Meat Inspection. Sign up for our newsletter today and don't miss another issue!