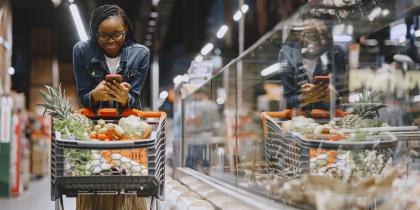 Retailers
The Georgia Department of Agriculture (GDA) regulates and monitors food retailers: grocery stores, convenience stores, bakeries, seafood operations, salvage food operations, mobile meat trucks, and rolling stores.
Highlights
About this Program

The Retail Food Section enforces state laws by inspecting retail food stores. Regulated firms include grocery stores, convenience stores, bakeries, seafood operations, salvage food operations, mobile meat trucks, and rolling stores. These inspections ensure that Good Retail Practices (GRPs) are being followed and food remains wholesome. Our food safety inspectors conduct random and unannounced inspections of food sales facilities that are licensed by the Georgia Department of Agriculture.

The inspectors also collect product samples for lab analysis, investigate consumer complaints, and supervise the destruction of unwholesome products. They may also follow up on accidents, natural disasters, and fires to ensure food safety.

 

Unattended Food Sales Establishments

Unattended Food Sales Establishments are food sales operations that provide automatic vending or merchandising of food products. These operations go by several names, including:

Micro-markets,
Self-service Food Markets, and 
Self-service Retail Convenience Stores

These establishments operate in the realm of food sales, subjecting them to the requirements of GDA's Retail Food Sales regulations and the Georgia Food Act. 

However, their modes of operation offer key differences to traditional food sales operations. Chief among these differences are that these vending units are typically housed within a controlled access facility. Therefore their food sales operations are not publicly accessible.

Based on their locations in controlled access facilities, nature of the products typically vended, and the lockout measures utilized by these machines for inventory control; at this time GDA has decided not to license and inspect these types of facilities. 

GDA reserves the right to enter these facilities, ascertain compliance with the provisions of our applicable laws and regulations, and to make inspection of said facilities as necessary to protect consumers' health and wellbeing.

Variances for Specialized Processes

Variances are intended for the allowance of specialized processes that will enhance operations with science based controls and monitoring.  Certain types of food or specialized food processing methods available to retail establishments will require additional documentation to be filed with the Department before they can be conducted at a licensed establishment.

Guidance for Requesting a Variance

If you need additional guidance completing or submitting an application, or for technical questions, please submit them via email to VarianceQuestions@agr.georgia.gov.
License Types
Licenses for this Program
Licenses for this Program