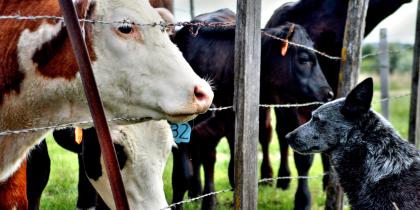 Pets & Livestock
The Georgia Department of Agriculture's (GDA) Animal Protection program licenses and regulates animal dealers (including shelters) within the State.  We ensure that animals are treated humanely and have good living conditions, and that our licensed establishments use good business practices.
Complaints
The Georgia Department of Agriculture has authority over our licensed facilities. You can log a complaint with us concerning one of our licensed facilities.  If you want to report animal cruelty, contact your local law enforcement agency.
Rabies: GDA cannot assist with rabies issues.  
Questions: Division of Public Health, Medical Epidemiologist, (404) 657-2588
Testing: Call Public Health (404) 327-7981
Rabies & Poison Control Center (animal bites): (800) 282-5846 or (404) 616-9000
Buying Pets from the Internet
Warning
Be extremely careful when purchasing or adopting an animal online. Many pet scams aim to deceive unsuspecting pet lovers. These criminals commonly offer a pet for little or no cost, then demand a hefty deposit to ship the animal or to release it from quarantine.
Many of these scam artists are from foreign countries, and getting your money back may be impossible. Never wire money. Research your purchase thoroughly. Find out as much about the seller as you can.