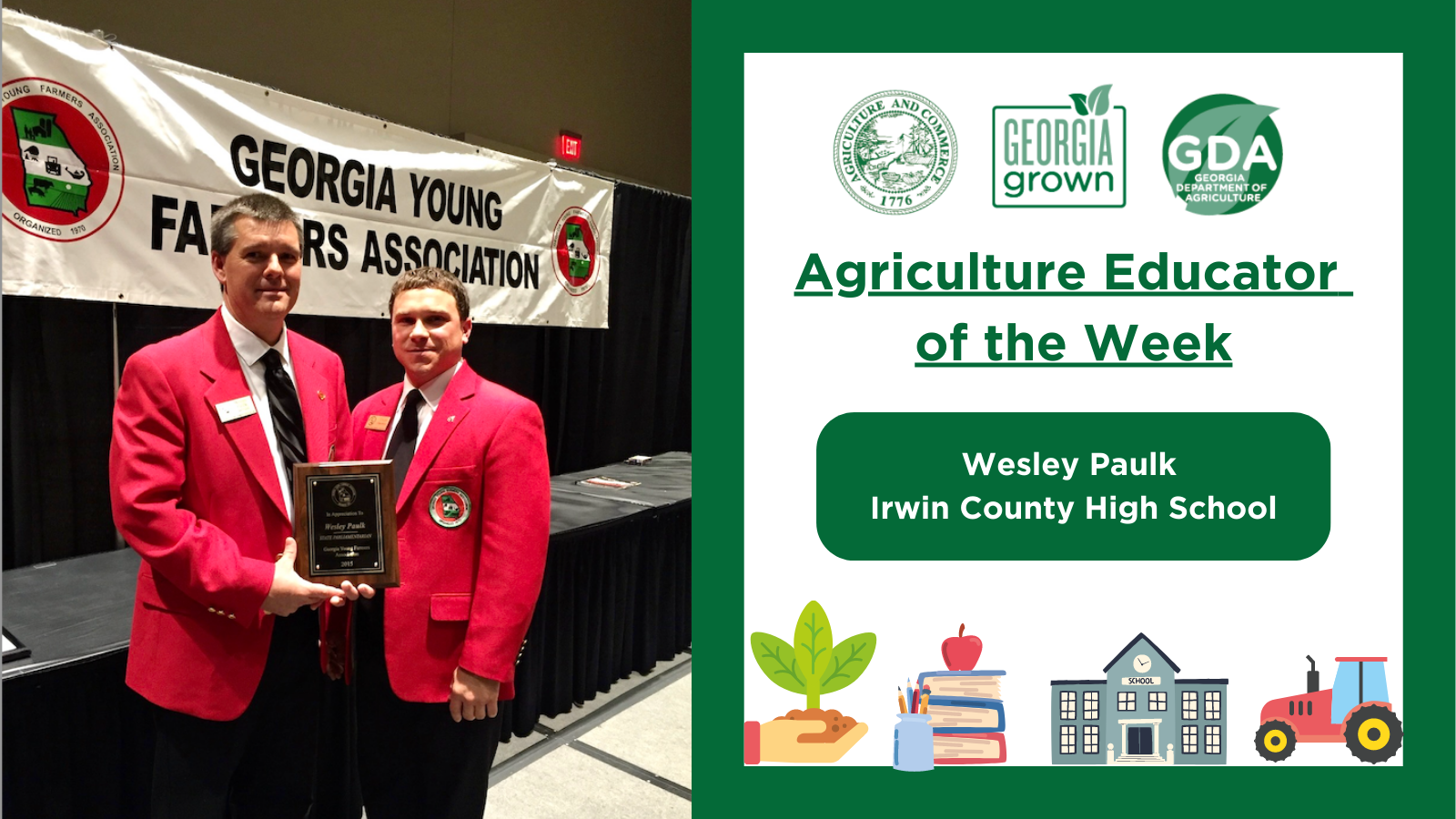 Where do you teach?
Irwin County High School in Ocilla, Ga. 
What grade do you teach?
11th and 12th grade?
How long have you been an ag teacher?
21 years
What made you want to get involved in Ag Education?
I am a farmer by trade and was an active member in the Georgia Young Farmer Association for 10 years prior to me becoming a teacher.  I knew how big of an impact the program had on me so when the current Young Farmer Teacher decided to leave Irwin County there was a great opportunity to join the Ag Ed family and continue a very successful program at Irwin County High School.
What is the most rewarding part of your job? 
To me just seeing students grow into productive citizens in our community and seeing them pursue a career in agriculture due partly from the impact that our ag programs have had on them. 
Why are Ag Education programs an important part of our curriculum?
Agriculture is the State of Georgia's number one industry.  It is very important that we teach kids about agriculture and expose them to the many different opportunities available in this industry. Being involved in FFA and later in the Georgia Young Farmer Association it gives kids and young adults opportunities to participate in many leadership events as well as networking events that can later help them to connect with possible career opportunities.  
Do you have any advice for individuals looking to get involved in Ag Education? 
Yes.  Being an  Ag Educator is not a normal teaching job, it is a lifestyle.  It is not an 8:00-3:30 job.  It is long days, some weekends, some holidays, nights, and summer days as well.  It is the most challenging but rewarding job I have ever had.  It takes a lot of commitment and willingness to invest a lot of time and energy into these kids and young adults.  But absolutely the best job in the world.  
What do you enjoy doing outside of work? 
I enjoy hunting, fishing, cooking, and spending time with family and friends. 
Any comments or stories you would like to share about your former student - Commissioner Tyler Harper? 
Tyler Harper started working with me on my personal farm in the late 1990's.  I knew from a young age that he had a passion for agriculture.  He was one of my first students and interns at our school farm when I started teaching in 2002. 
Tyler was a very bright student and wanted to pursue a career in agriculture.  With our school farm I had many opportunities in the community to let Tyler go with me to tell our story about the CASE Farm project.  Every chance that I had I would put Tyler in front of a crowd.  Through the Young Farmer program Tyler took advantage of a lot of opportunities to attend many leadership and networking events as well as visits to the State Capitol.  Tyler went on to be elected to the Georgia Young Farmers Association board of directors and then went on to serve as the GYFA President.  I was proud to have Tyler represent me as our State Senator for the 10 years before getting elected as our Agriculture Commissioner. 
It has been rewarding to me as an Ag Educator to see what impact FFA and the Georgia Young Farmer organization has on this young man.  Without these programs in place, I would almost say with certainty that Tyler's opportunities would not have been the same.  There are so many success stories that so many Ag Teachers across this state can share about their students.  We are fortunate in this state to have the support of our legislature and ag industries that helps us maintain one of the premier programs in this country.