Atlanta, GA - Today, the Georgia Department of Agriculture (GDA), in coordination with the U.S. Department of Agriculture (USDA) and the University of Georgia (UGA), announced confirmation that within two weeks of USDA's Animal and Plant Health Inspection Service (APHIS) initial confirmation of a yellow-legged hornet in the Savannah, GA area, a nest has been found and safely eradicated by GDA's team of experienced scientists. The yellow-legged hornet is a non-native species, currently only found in the Savannah area, that could threaten honey production, native pollinators, and our state's No.1 industry - agriculture.
"On Wednesday night, our Plant Protection Program experts successfully trapped and eradicated a yellow-legged hornet nest which is a huge win for the health and well-being of our agriculture industry and every citizen across our state," said Georgia Agriculture Commissioner Tyler Harper. "Thanks to our vigilant citizens, partners at UGA Extension, and USDA, we've now eradicated the first, and what we hope will be the last, yellow-legged hornet nest within days of its discovery. We ask that the public continue to stay vigilant and report any additional suspected sightings of this species to the GDA."
The nest was found in a tree, approximately 85 feet off the ground, in a residential area in Savannah. Once discovered, GDA's team of experts worked diligently to assess the situation and determine the safest way to manage the removal of the nest.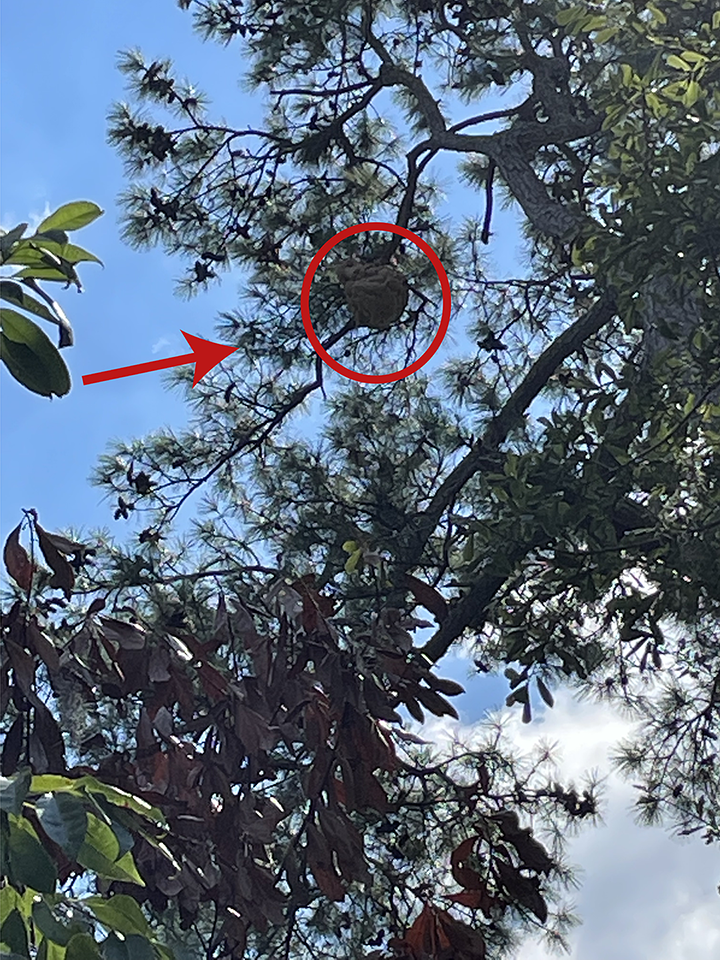 On the night of August 23, 2023, a licensed pest control company applied cypermethrin to the nest to kill the adult yellow-legged hornets. Additionally, an application was made to the entrance and interior as parts of the nest broke away. A licensed tree surgeon climbed the tree, almost to the nest, with a hose from the spray equipment, and applied cypermethrin directly to the nest. The tree surgeon then cut the nest out of the tree. 

The GDA will continue to monitor the area where the hornets have been found to locate any other nests that might be present to help us determine whether this is the only yellow-legged hornet nest in the area. Beekeepers have been key in reporting yellow-legged hornets, and we encourage them to continue monitoring their hives and contact us with any suspicious activity. As we begin our initial analysis of the nest, we ask the public to continue to report any sightings of the yellow-legged hornet via this readily accessible form. Georgians with additional questions or concerns are encouraged to email us at yellow.legged.hornet@agr.georgia.gov.
"We congratulate the Georgia Department of Agriculture for eradicating the first yellow-legged hornet nest," said Dr. Mark Davidson, Deputy Administrator of the U.S. Department of Agriculture's Plant Protection and Quarantine Program. "We are pleased to have assisted them in this effort. Thanks to their work in Savannah, this nest is no longer a threat to honey bees in the area. This timely response is a good example of our close cooperation with Georgia Department of Agriculture in combatting this and other invasive pests," said Dr. Davidson.
Recently, a beekeeper in Savannah, GA, found an unusual hornet on his property and reported it to the GDA. On August 9, 2023, APHIS confirmed the University of Georgia's (UGA) identification of this insect as a yellow-legged hornet (YLH; Vespa velutina). The yellow-legged hornet is a social wasp species that constructs egg-shaped paper nests above ground, often in trees. These nests can become large, housing an average of 6,000 workers. The yellow-legged hornet is native to tropical and subtropical areas of Southeast Asia. It is also established in most of Europe, parts of the Middle East, and parts of Asia where it isn't native.
###