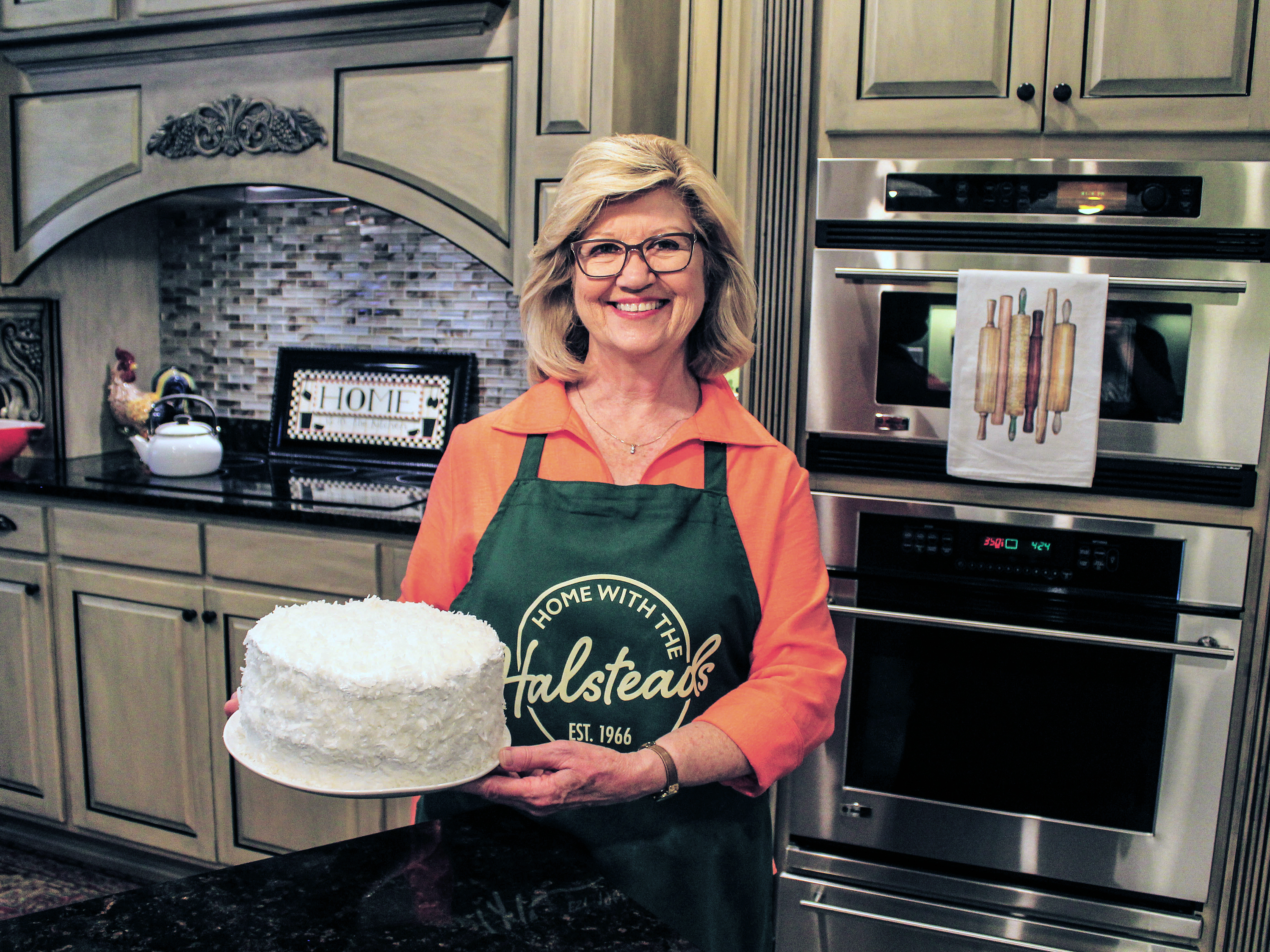 Joyce Halstead showing her coconut cake
Halstead offers cooking tips, life lessons in new cookbook
By Jay Jones
jay.jones@arg.georgia.gov
Editor
Joyce Halstead is always wanting to help. She explained she was doing so with her daughter with a Thanksgiving dessert that changed her life. She turned a single recipe into a second career with a large Facebook following and a cookbook.
The recipe, a family favorite, pecan pie pizza, had frustrated her daughter, who was hosting a Thanksgiving gathering at her house.
After phone calls and texts between her and her daughter, Halstead wasn't making much progress. The idea came to her to make a video to show her how to make the dish.
"I thought, if I could just show her how to do it, it would be so much simpler, a Halstead said. "A friend was here, and I asked her to video me making it. It turned out well, so I sent it to my daughter and the other family members, and they just loved it."
The video was so good Halstead's daughter urged her to post other recipes online to help people. After recently retiring from Southern Regional Technical College in Thomasville as vice president for student affairs, Halstead said she was up for a new challenge.
She and her husband, Doug, created the name "Home with the Halsteads" for their Facebook page and posted the first video in June 2021. "To be honest, I didn't know if any-one would be interested or not, but people began to follow, and they were very supportive."
She had about 800 followers for the first few months. Halstead said people began to notice her heading into Thanksgiving of that year. She posted a video on how to make a chicken and stuffing recipe. Apparently, a lot of people needed help with that dish, and they kept coming back. In one year, "Home with the Halsteads" grew to 18,000 followers.
Her secret to success is no secret. Halstead said she keeps things simple. Most ingredients she uses are basic and can be found in anyone's pantry. Accuracy in the recipes are also important. Although the recipes are familiar to her, many are family favorites, with some handed down from her mother. Halstead said she spends hours pre-paring before making a video.
"I tell them what I'm going to do, and then I show them how to do it, then I tell them what I've done, and I taste it," she said. "They love for me to taste it and show them how a pie cuts or how it serves and looks when it's finished."
Her Facebook followers, family and friends wanted her to do a cookbook. Halstead said she could not say no and published "South Georgia Favorites" last year.
The book is more than an extension of what she's done with the videos. Halstead dedicates the book to her mother. Halstead said her mother taught her not only how to cook but how important it is to help others. Many recipes in the book are from her mother, and some Halstead said she has used for years.
"(The recipes) are simple, easy to follow, and they're delicious. Throughout my book, I give helpful hints, and I also have some of my favorite scriptures that I've just put here and there," Halstead said. "I have a sampling of life lessons I've learned along life's way in the back of the book. Some of those include count your blessings, be kind to everyone, save for a rainy day, and learn from your mistakes."